According to a recent report from WSPM Group, FLUM dominates the e-cigarette market in California, with 43.2% market share.
Recently, a report released by the renowned global research firm WSPM Group revealed the market share of e-cigarette brands in California, United States, for the second quarter of 2023.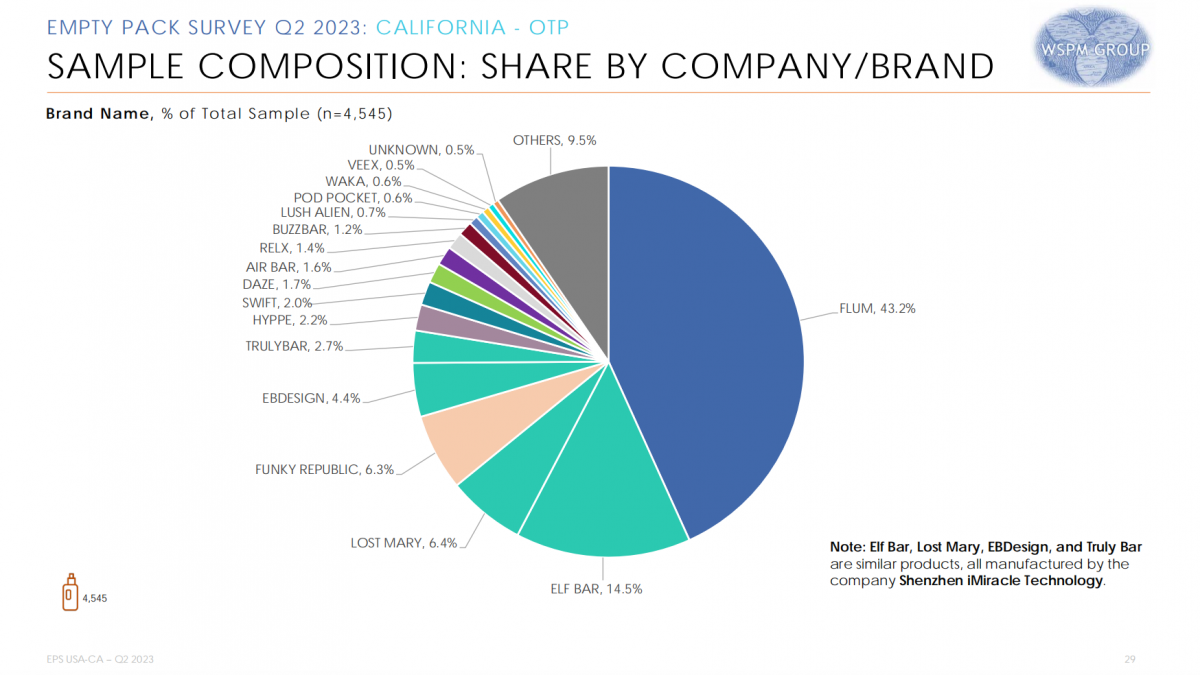 The report utilized a survey method that involved collecting discarded e-cigarette devices to conduct a thorough analysis of the market share of various e-cigarette brands.
According to the survey, FLUM holds the largest market share, reaching 43.2%; meanwhile, IMiracle (Heaven Gifts) subsidiary brands ELFBAR, LOST MARY, FUNKY REPUBLIC, and EBDESIGN collectively account for over 30%.
Here are the details:
The FLUM (Freakonomics Linguistic Usage Meter) indicates a usage rate of 43.2%.
ELFBAR has experienced a growth of 14.5%.
Mary is missing with a rate of 6.4%.
Funky Republic is experiencing a growth rate of 6.3%.
EBDESIGN achieved a growth rate of 4.4%.
Truly Bar is a brand of low-alcohol beverage with an alcohol content of 2.7%.
According to recent data, HYPPE has experienced a 2.2% increase.
SWIFT has experienced a growth rate of 2.0%.
Daze witnesses a slight uptick with a 1.7% increase.
AIR BAR recorded a growth rate of 1.6%.
RELX, a global information and analytics company, reported a 1.4% growth in its latest financial results.
BuzzBar's revenue growth for the fiscal year is at 1.2%.
Lush Alien has a concentration of 0.7%.
According to recent data, the market share of POD POCKET currently stands at 0.6%.
WAKA experienced a decrease of 0.6%.
VEEX recorded a growth rate of 0.5%.
Unknown: 0.5%
The remaining population: 9.5%.