FLUM dominates the e-cigarette market in California, with a 42.8% market share in the second quarter of 2023.
Recently, a report released by the renowned European research firm WSPM Group revealed the market share of e-cigarette brands in California in the second quarter of 2023. The top five brands in terms of market share are FLUM, ELFBAR, LOST MARY, FUNKY REPUBLIC, and EBDESIGN. However, 2FIRSTS has discovered that apart from FLUM, which is owned by Dawson Company and holds a significant portion of the market, the other four brands are all subsidiaries of Heaven Gifts Company.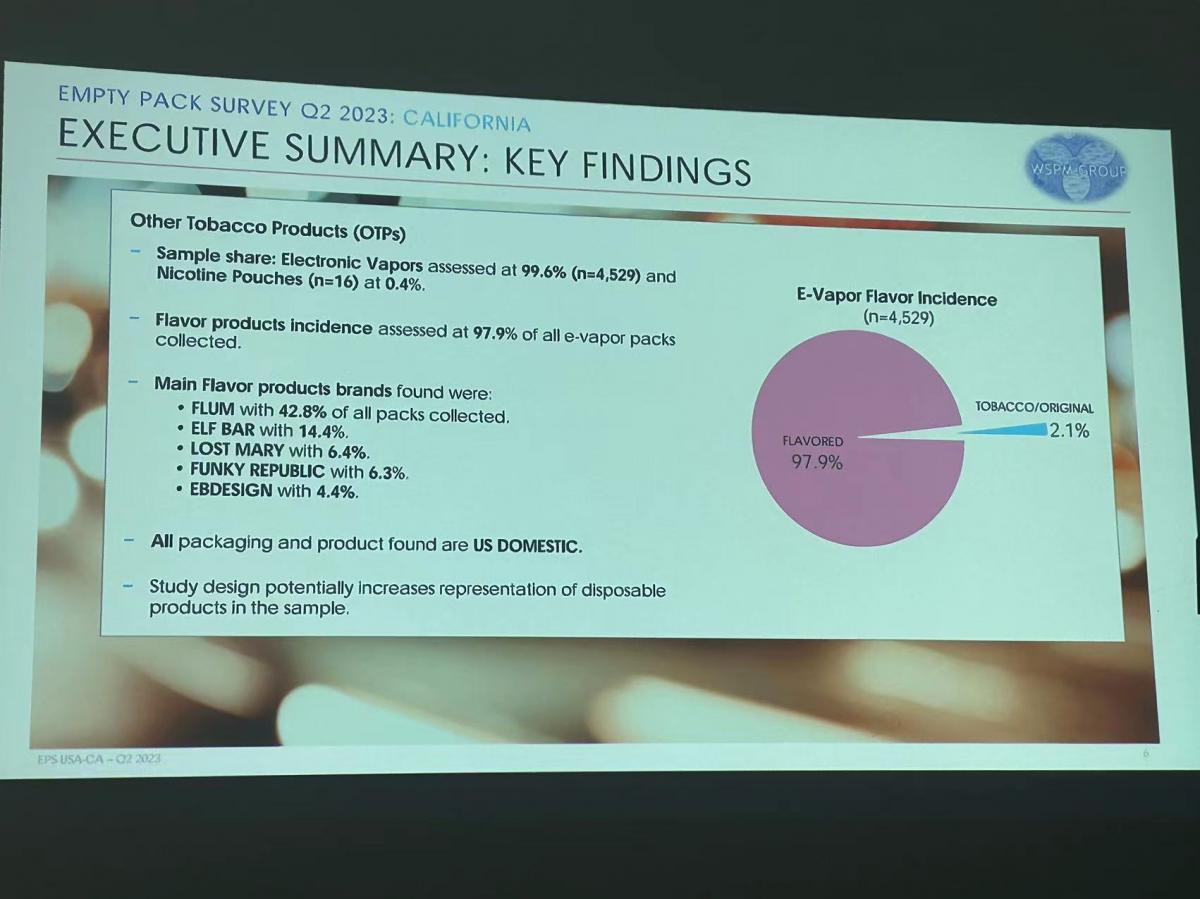 The above-mentioned report by WSPM utilized a survey method that involved collecting discarded e-cigarette devices to conduct a detailed analysis of the market share of different e-cigarette brands. According to the survey, WSPM found out the brand market share in the disposable e-cigarette market in California for the second quarter of this year. Among them, FLUM had the highest market share, reaching 42.8%. The combined market share of four brands, including ELFBAR and LOST MARY, amounted to 23.5%, which is just over half of FLUM's market share.
The specific market share of the top five brands is as follows:
According to recent data, FLUM accounts for 42.8% of the market share, followed by ELFBAR at 6.4%. Other notable players include LOST MARY and FUNKY REPUBLIC, both making up 6.4% and 6.3% respectively. Finally, EBDESIGN holds a 4.4% market share.
According to information gathered from various job recruitment websites, industry insiders, and trademark websites, 2FIRSTS has learned that FLUM originates from Dawson Steam Car Technology Co., Ltd. in Shenzhen. On the other hand, brands such as ELFBAR, LOST MARY, FUNKY REPUBLIC, and EBDESIGN are all owned by IMiracle (Heaven Gifts).
WSPM Group, founded in 2002, has a primary aim of providing global data-driven intelligence and international intellectual property infringement investigations. Its clients include major international tobacco companies such as Altadis, Philip Morris International (PMI), British American Tobacco, Japan Tobacco, and Imperial Brands.